Is Acupuncture Safe?
Is Acupuncture Safe?
Written By Allen County Chiropractic Wellness Center on January 14, 2021
---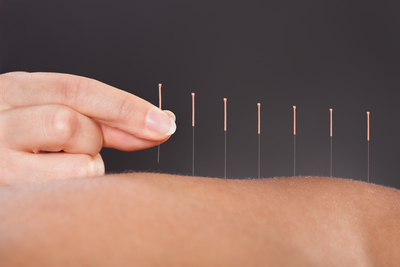 Acupuncture is a natural treatment option for many conditions, including chronic pain, depression, and chronic fatigue. This popular Chinese medicine involves the insertion of needles into your body to stimulate connective tissues, nerves, and muscles.
If you're new to acupuncture, you may be wondering, is it safe? According to the National Institute of Health, only a small amount of complications from acupuncture administered by a licensed professional have been reported. However, mild side effects such as soreness, bruising, and skin rashes can occur.
How Acupuncture Works
Acupuncture involves the insertion of needles in specific points of the body. These acupuncture points allow practitioners to stimulate various nerves, connective tissues, and muscles. The needles used for acupuncture are very thin, so many patients don't feel them inserted. Other patients may experience mild discomfort.
Between five and 20 needles are typically used for treatment. Where the needles are inserted depends on the type of condition or symptoms that you are experiencing. Once the needles have been inserted, the practitioner may gently move the needles, apply mild electric pulses, or apply heat to stimulate the acupuncture points. Needles remain in place for up to 20 minutes before being removed.
The Benefits of Acupuncture
Acupuncture is used to treat a variety of health conditions, including:
Depression
Anxiety
Chronic pain
Sinus congestion
Arthritis
Sciatica
Insomnia
Migraines
Tinnitus
Chronic fatigue
Smoking Cessation
The Potential Side Effects of Acupuncture
While the risk of acupuncture is low, some patients experience minor side effects such as minor soreness, bleeding, and bruising at insertion points. Today, disposable needles are standard, minimizing the risk of infection. However, acupuncture isn't for everyone. You may have a greater chance of experiencing side effects if you:
Have a bleeding disorder
Are taking blood thinners
Are pregnant
Have a pacemaker
Benefiting from Acupuncture in Fort Wayne
Acupuncture is on the rise in the United States for its holistic approach to various symptoms and medical conditions. Dr. Shannon Nierman has been providing chiropractic and acupuncture services for over a decade. He is passionate about building lasting relationships with his community and providing chiropractic care and acupuncture treatment plans tailored to each of his patients. Your first visit will include a consultation, a review of your medical history, and a physical exam. In most cases, same-day treatment is available.
Are you interested in acupuncture in Fort Wayne? Contact our office today at (260) 432-7339 to learn more and schedule an appointment.

Posted In: Chiropractic Acupuncture Smoking Cessation Stress Reduction