Massage Therapy for Stress Reduction
Massage Therapy for Stress Reduction
Written By Allen County Chiropractic Wellness Center on September 14, 2020
---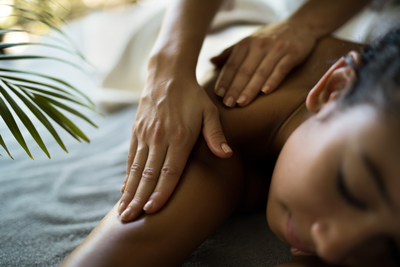 Stress is a normal part of life and affects up to half of all Americans. It can help motivate you, give you a boost of energy, and help you get things done. Stress responses provide your body with a way of dealing with demanding situations – besides, stress impacts and your respiratory, cardiovascular, hormonal, and nervous systems.
But what happens when stress becomes chronic or severe? More than half of Americans say that stress causes them to fight with their loved ones, and 70 percent say that stress causes emotional and physical symptoms. Fortunately, several treatment options, including massage therapy for stress, can proactively manage the condition to prevent chronic stress.
The Dangers of Chronic Stress
Chronic stress can damage your emotional, mental, and physical health. If you suffer from chronic stress, you may also suffer from:
Frequent or severe headaches
Poor sleeping habits or sleep conditions, such as insomnia
High blood pressure
Muscle tension or pain
Anxiety, depression, or irritability
Panic attacks
Digestive problems
Common Causes of Stress
Everyone has different stressors, but common causes of stress include:
The death of a loved one
The loss of a job or being unhappy with your job
Divorce and marriage
Chronic illness
Taking care of sick, elderly, or young family members
Traumatic events
Emotional conditions such as anxiety, depression, and low self-esteem
Overworking or working under dangerous conditions
Increase of financial obligations or lack of income
The Benefits of Massage Therapy for Stress Reduction
Almost half of all adults in America will experience a mental health challenge at some point in their lives. Fortunately, massage therapy for stress has shown to significantly reduce stress as well as symptoms of anxiety, depression, and other mental health disorders.
Besides stress relief, massage therapy is used to:
Reduce muscle and joint pain
Reduce inflammation
Reduce muscle tension and stiffness
Improve circulation
Finding Massage Therapy for Stress in Fort Wayne
Massage therapy is used to treat stress, anxiety, depression, and relieve pain and inflammation. Allen County Chiropractic Wellness Center with Dr. Monique Levesque-Hartle and Dr. Shannon Nierman D.C L.Ac has become a cornerstone of the Fort Wayne community for their holistic, patient-focused approach. They have three wonderful massage therapists on staff. Call the office at 260-432-7339 to schedule an appointment to help you find stress relief right away.
Are you looking for massage therapy for stress in Fort Wayne? Call our office today at (260) 432-7339 to schedule an appointment and get started.

Posted In: Chiropractic Massage