Natural Headache Treatment with Chiropractic Care
Natural Headache Treatment with Chiropractic Care
Written By Allen County Chiropractic Wellness Center on June 26, 2020
---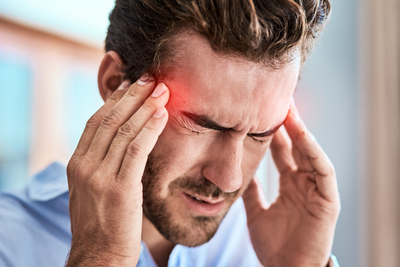 Headaches are incredibly common within the United States. Up to 80 percent of adults experience episodic tension headaches, and 12 percent of the U.S. population experiences migraine headaches. There are several types of headaches, and the severity of a headache can vary by type. Some headaches, such as migraines, can be debilitating.
Fortunately, natural headache treatment is available through chiropractic care. Studies have suggested that several chiropractic services, such as spinal manipulation, can dramatically improve headaches in patients. These services act as natural headache treatment options that help patients avoid the use of medications.
The Different Types of Headaches
While tension headaches are the most common, there are over 150 known types of headaches. Fortunately, most headaches can be narrowed down to a handful of headache types, including:
Tension headaches
Cluster headaches
Post Traumatic headaches
Migraine headaches
Chronic headaches
Sinus headaches
The natural headache treatment that will suit you best is based upon the type of headache you are experiencing and the cause of your headaches. For example, if you were recently involved in a car accident, you may be suffering from whiplash. It's important to talk to your doctor about your symptoms so that we can tailor your treatment plan best to you.
Chiropractic Care Options for Natural Headache Treatment
Chiropractic care offers several natural headache treatment options for patients. If you currently suffer from headaches, you can benefit from chiropractic services such as:
Spinal manipulation or chiropractic adjustments
Myofascial Release
Rehabilitation
Education and recommendations for lifestyle changes
Nutritional advice and dietary change recommendations
Acupuncture
Whiplash treatment
Finding Natural Headache Treatment in Fort Wayne
Dr. Monique Levesque-Hartle has been providing natural headache treatment to the Fort Wayne community for years. As a patient of Allen County Chiropractic Wellness Center, your natural headache treatment plan is tailored to you based upon your symptoms and the type of headache you are experiencing.
Dr. Shannon Nierman has been providing the Fort Wayne community with acupuncture services for several years. During your visits, Dr. Nierman will work with you to create a personalized treatment plan for you based on your goals, needs, and symptoms.
Are you searching for the best natural headache treatment in Fort Wayne? Don't put up with painful, debilitating headaches. Contact us today at (260) 432-7339 or schedule an appointment online to get started.

Posted In: Chiropractic Headache Treatment